Elliptical Review: Freemotion e10.9b Elliptical
The rise of remote work has driven the rise of home gyms. And the task of selecting the best exercise equipment for your private sanctuary can be a difficult task. Depending on your range of physical ability and preferred workout style, an elliptical machine may be the best remedy to meet your physical and entertaining preferences for working out at home.
For an elliptical to be low-impact and be as sturdy as a commercial elliptical, yet having features engaging enough to make working out something you can look forward to doing––how can this kind of elliptical even exist?
Lucky for us all, Freemotion has checked all these boxes plus more with the Freemotion e10.9b Elliptical. Let us help your purchasing decision easier with this in-depth review of the e10.9b elliptical.
Freemotion e10.9b Elliptical Review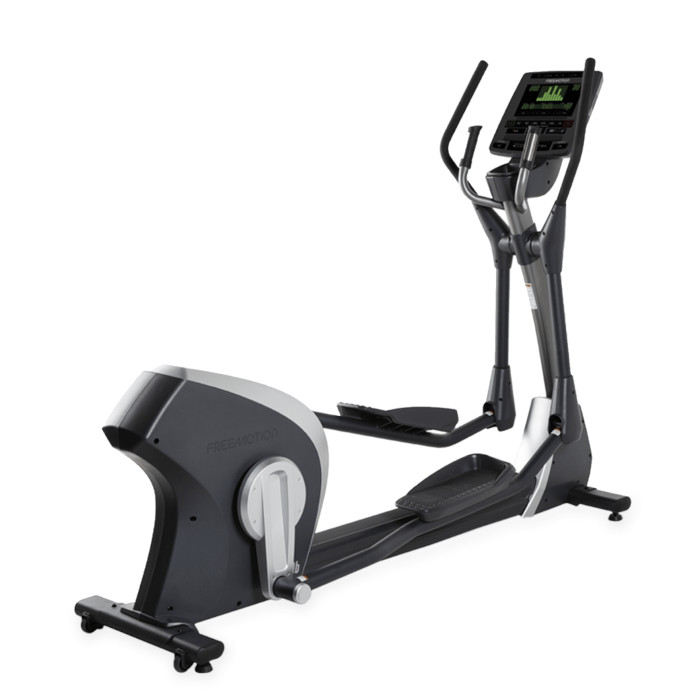 Low-Impact Training At Home
As using an elliptical is generally a low-impact activity in itself, Freemotion encompases a quality-meets-comfort concept with their design of the e10.9b elliptical, so a user can experience gym-like elliptical workouts while being friendly to your joints. With its stride length of 20 inches, non-skid traction control pedals, and soft touch upper body grips, a user can comfortably practice a low-impact workout each day at home.
Quiet Belt Drive System Feature
When you first envision an elliptical in the gym, usually an echoey space with blasting music and the sound of working machinery comes to mind. The e10.9b elliptical defines that reputation. This carefully crafted elliptical was engineered with a Quiet Belt Drive System that makes for a smooth and quiet workout session, including Bluetooth® capability. That way, you can truly immerse yourself into every workout without disturbing others.
Also with the space-efficient Hutchinson J10 rear drive, you can enjoy intense resistance with muted strides to avoid noise pollution within your home. Once you've finished your daily workout, the 3.3 in/8.38 cm transport wheels makes for easy movement to your preferred storing location.
Simplified User Interface
With the e10.9b's easy-to-read result interface, you can easily track your key stats like speed, resistance, RPM, distance, calories, time, heart rate*, pace, and watts. Doing so can help you determine the quality of your workouts and if you should adjust accordingly, so you can reap the most benefit from your efforts.
Full-Body Workout Opportunities
The e10.9b allows for a full-body workout by incorporating the handlebars to provide more resistance to the upper body. Also included is a convenient way to make easy on-the-fly adjustments and sensor pulse directly on both levers.
iFIT®-Enabled Technology
This inventive feature of iFIT-enabled technology allows a user to worry less about joint stress and avoid the distraction of adjusting their elliptical's incline and resistance, and focus more on using proper form and the workout in front of them. During a workout, this iFIT®-enabled elliptical machine will automatically mirror the terrain and trainer instruction on your phone or tablet by adjusting the machine appropriately for an even more immersive and engaging training experience.
On top of the impressive functionality of iFIT, this interactive training program brings thousands of workouts to your fingertips, ranging from studio class settings to destination workouts filmed all across the world. Simply download the iFIT app to your phone or tablet, and choose from an endless selection of workouts based upon your preferred iFIT trainer, location, workout style, series type, etc. This allows you to completely customize your workouts to fit you and what you want!
Integrated Google Maps™
If you're someone who likes to create and find their own path, then you'll love this feature. The integration of Google Maps™ on the e10.9b elliptical gives you the opportunity to map out your own workout route throughout the world. Trail at your own pace and explore pathways to new experiences.
24/7 Personal Trainer
No matter the time of day or night, you have a variety of personal trainers waiting for you on the e10.9b with iFIT. Get moving on your time with some of the best professionals in the world, including Olympic athletes and sophisticated doctors who have dedicated their lives to their practice. So, you can trust you're getting exclusive access to the best connections in the health and fitness realm.
Conclusion
The Freemotion e10.9b Elliptical features truly speak for themselves. Quality equipment with unmatched features and experiences surely makes this elliptical a game-changer. The elliptical realm has been turned upside down with this machine, which is why we're naming it one of our best elliptical machine picks!
Visit Freemotion for more e10.9b elliptical information, and check back here on Elliptical.com for all your elliptical reviews.
DISCLAIMER: This article is not intended to replace the advice of a medical professional. The above information should not be used to diagnose, treat, or prevent any disease or medical condition. Please consult your doctor before making any changes to your diet, sleep methods, daily activity, or fitness routine. Elliptical.com assumes no responsibility for any personal injury or damage sustained by any recommendations, opinions, or advice given in this article. Always follow the safety precautions included in the owner's manual of your fitness equipment.
*Heart rate monitors used for exercise such as the wireless heart rate monitoring chest strap, grip sensors, or forearm monitors are not medical devices, and their accuracy may be affected by a number of factors. They are also not intended to diagnose, treat, cure, or prevent any disease.
IFIT DISCLAIMER: iFIT requires an internet connection and Wi-Fi to function. You will be required to provide your credit card information upon sign-up for iFIT. Your Commitment Period may be month-to-month or twelve (12), eighteen (18), or thirty-six (36) months, depending on your agreement. Terms of Service shall apply to your iFIT use and subscription during your Commitment Period and any subsequent Renewal Term. Unless you cancel your account or notify us at least twenty four (24) hours prior to the expiration of your commitment period that you do not wish to renew your subscription, your iFIT subscription will automatically renew for an additional month, one (1) year, or two (2) year period, as applicable, for the same duration as your initial commitment period ("The Renewal Term"), and you authorize us to bill the then-applicable membership fee and any taxes to the payment method we have on record for you. 
Sources:
https://freemotionfitness.com/machine-for-home-gym/e10-9b-elliptical/
https://elliptical.com/elliptical-buyers-guide-2021/
https://www.mayoclinic.org/healthy-lifestyle/fitness/expert-answers/elliptical-machines/faq-20058294
https://elliptical.com/ways-to-get-a-great-elliptical-workout/
https://elliptical.com/ifit-elliptical-support-getting-started-with-ifit/