Burn Belly Fat With Elliptical Training
A bulging middle can leave you struggling to button up your favorite jeans, but it can have more dire consequences for your overall health. According to medical scientists at Harvard, excess fat within the abdominal cavity releases proteins into the body that may promote high blood pressure, inflammation, and cardiovascular disease. Fatty acids in belly fat can travel to the liver, affecting blood lipid production, increasing LDL or bad cholesterol.
Let's go over how you take control of your health and work towards burning that stubborn fat with the elliptical training.
What Causes Belly Fat
Some causes of belly fat are overeating sugary foods and inactivity, but other contributing factors include:
Age-related slow metabolism
Lack of sleep that decreases satiety hormones production
Stress-induced cravings
Unhealthy food choices
Smoking
Medication side effects

Regardless of why someone develops belly fat, anyone can benefit from a full-body elliptical workout.
What Is An Elliptical
An elliptical machine is a stationary machine that simultaneously works the arms and legs. Elliptical machines accommodate high- or low-intensity, low-impact workout sessions without putting too much stress on your joints.
How Can Elliptical Training Reduce Belly Fat
Science proves to show that there are effective ways to lose belly fat by exercising; however, only doing abdominal exercises will not do the job. In fact, a 6-week study found that abdominal exercise on muscles had no effective result on participant's abdominal fat.
Weight training and cardiovascular exercise, on the other hand, have shown to reduce fat, not only in the abdomen but all over the body. In fact, another study showed aerobic or resistance training in as little as 80 minutes per week had a positive effect in preventing weight regain, followed by a healthy diet.
As training on an elliptical provides a great cardiovascular workout, it's a great tool to burn body fat. And thanks to low-impact capabilities, it makes for an effective exercise choice for most fitness levels.
Which Elliptical Machine Is Right for Me
Elliptical training is widespread, and you have lots of options to choose from. However, we believe it's important to pay close attention to the quality of machine you're using and the type of workouts you're doing in order to maximize your time and efforts.
The following brands lead the pack with these three elliptical standouts that offer a challenging and engaging interactive workout experience that can support your mission to burn that belly fat:
NordicTrack FS10i FreeStride Trainer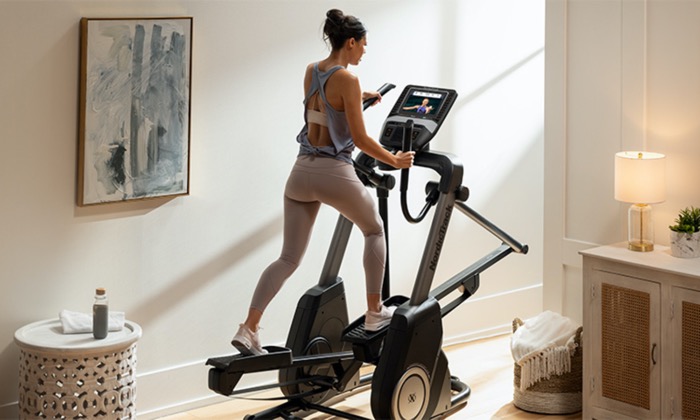 NordicTrack refers to the FS10i as a FreeStride Trainer. Thanks to its multi-function capacity, you can enjoy the workout of a stepper and a treadmill all into one machine, while also adjusting its level of intensity due to its 0-10% incline range. Twenty-four resistance levels are also available at a touch of a button to target different muscle groups to help you reach the ultimate calorie-burn.
To take your workouts even further, the FS10i is compatible with the state-of-the-art iFIT® virtual training program, featuring a 10-inch HD touchscreen that lets you participate in a wide range of virtual fitness classes with world renowned professional trainers. With the two built-in speakers and Bluetooth® Audio capabilities, you can truly immerse yourself into each and every workout without any distractions. 
ProForm Carbon E7 Elliptical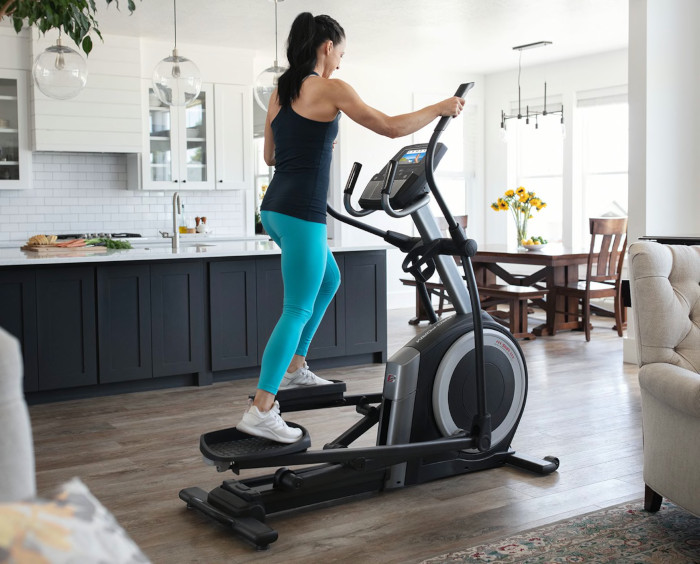 ProForm offers one of the best values in the market by including a 3-year iFIT family membership with each ProForm Carbon E7 Elliptical purchase. A 0% – 20%  adjustable incline range and 24 resistance levels allow you to adjust your workout's intensity without sacrificing comfort, thanks to its over-sized pedals with added cushioning. 
Those with partners and little ones at home can still take advantage of a beneficial, calorie-burning workout due to the Carbon E7's SMR™ Silent Magnetic Resistance system. Drive up your intensity without being disruptive. You can also stay cool during each workout thanks to the machine's integrated fan and a water bottle holder so easily accessible. Because burning that stubborn belly fat shouldn't be unbearable.
Freemotion e22.9 Elliptical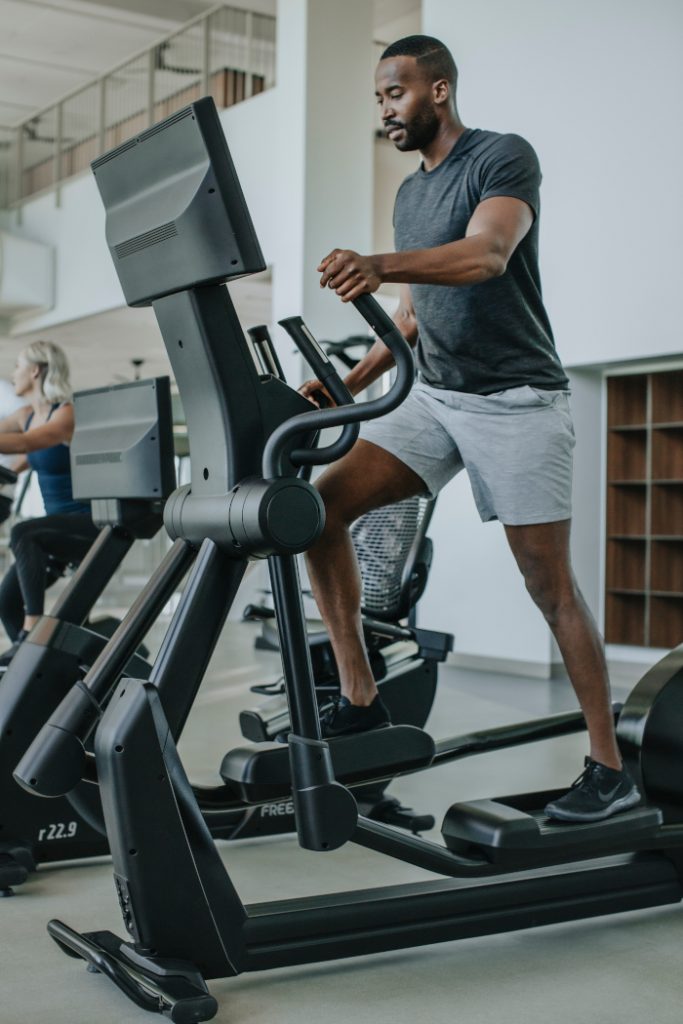 Freemotion's luxury, commercial grade e22.9 Elliptical offers a large 22-inch HD adjustable touchscreen that allows you to enjoy your favorite scenic views while you work out in exotic places around the globe on iFIT. An endless array of workouts with highly regarded trainers worldwide is accessible with your iFIT membership. And the level of expertise and experience these iFIT trainers have, you're that much closer to achieving your ultimate fitness goals.  
You can even take your workouts in your own hands by making your own route via Google Maps™. Take your training anywhere you want to go in the world. And with 24 resistance levels available to you on the e22.9, it allows you to participate in progressive workouts, testing your stamina to the utmost degree possible.
Conclusion
Now that you have a better idea of what it'll take to achieve the belly of your dreams, you can feel more comfortable investing in the elliptical to get you there. Once you have made your initial elliptical purchase, check back here on Elliptical.com for more elliptical advice and elliptical workouts that'll make you look forward to working out each day!
DISCLAIMER: This article is not intended to replace the advice of a medical professional. The above information should not be used to diagnose, treat, or prevent any disease or medical condition. Please consult your doctor before making any changes to your diet, sleep methods, daily activity, or fitness routine. Elliptical.com assumes no responsibility for any personal injury or damage sustained by any recommendations, opinions, or advice given in this article. Always follow the safety precautions included in the owner's manual of your fitness equipment.
IFIT DISCLAIMER: iFIT requires an internet connection and Wi-Fi to function. You will be required to provide your credit card information upon sign-up for iFIT. Your Commitment Period may be month-to-month or twelve (12), eighteen (18), or thirty-six (36) months, depending on your agreement. Terms shall apply to your iFIT use and subscription during your Commitment Period and any subsequent Renewal Term. Unless you cancel your account or notify us at least twenty four (24) hours prior to the expiration of your commitment period that you do not wish to renew your subscription, your iFIT subscription will automatically renew for an additional month, one (1) year, or two (2) year period, as applicable, for the same duration as your initial commitment period ("The Renewal Term"), and you authorize us to bill the then-applicable membership fee and any taxes to the payment method we have on record for you. 
Sources:
https://www.health.harvard.edu/staying-healthy/taking-aim-at-belly-fat
https://www.healthline.com/nutrition/12-causes-of-belly-fat-gain
https://www.healthline.com/health/visceral-fat
https://www.healthline.com/health/fitness-exercise/elliptical-benefits
https://www.healthline.com/nutrition/6-proven-ways-to-lose-belly-fat
https://pubmed.ncbi.nlm.nih.gov/21804427/
https://www.ncbi.nlm.nih.gov/pmc/articles/PMC2913900/
https://www.nordictrack.com/freestride-trainers/nordictrack-fs10i-freestride-trainer
https://www.proform.com/ellipticals/carbon-e7
https://freemotionfitness.com/cardio-machine/e22-9-elliptical/