Elliptical Buyer's Guide For 2021
Are you looking for a superior, full-body cardio workout that's easy on your joints and can be completed from the comfort of your home? An elliptical machine is a great choice for those seeking to bring home the gym experience with a piece of equipment that provides an all-around cardiovascular workout suited to just about any fitness level.
Different Configurations For Ellipticals
Elliptical machines have evolved a lot since the first ones came out in the 1990s. There are several different configurations, each with its own advantages.
Center-Drive Ellipticals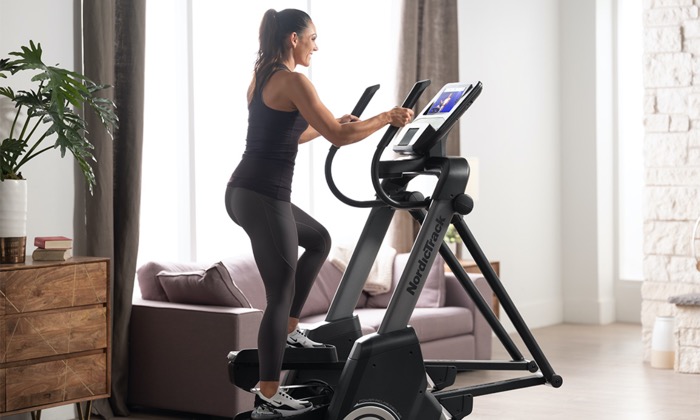 A newer type of elliptical machine, the center-drive elliptical locates the drive system on one side of the user. It is generally more compact and allows the pedals to be closer together, potentially reducing joint stress for some users. The NordicTrack FS10i Elliptical comes with the ability to connect with trainers who can adjust the resistance and incline on your machine.
Front-Drive Ellipticals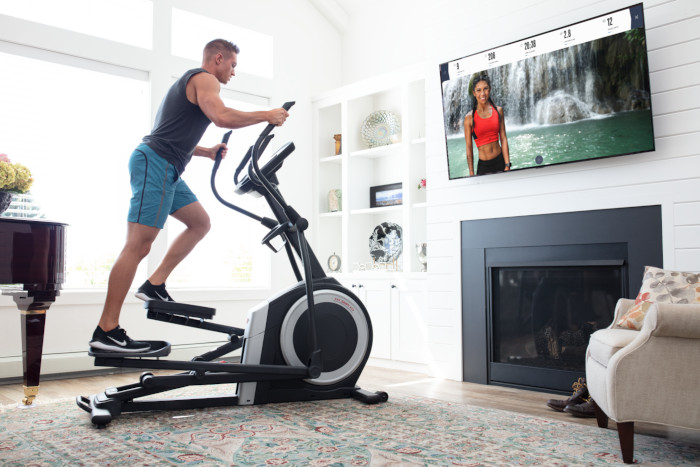 A front-drive elliptical has the flywheel in the front of the machine. This location means the user moves the mechanism with a pushing motion, using the balls of the feet and engaging the anterior muscles. The user leans slightly forward during the workout, similar to a stair climber.
The mechanics of a front-drive elliptical machine are simpler, making them more budget-friendly. If you're in the market for an elliptical that gives you the feel of a stair climber and won't break the bank, consider a front-drive elliptical. The ProForm Carbon EL has an adjustable stride and resistance control with the touch of a button.
Rear-Drive Ellipticals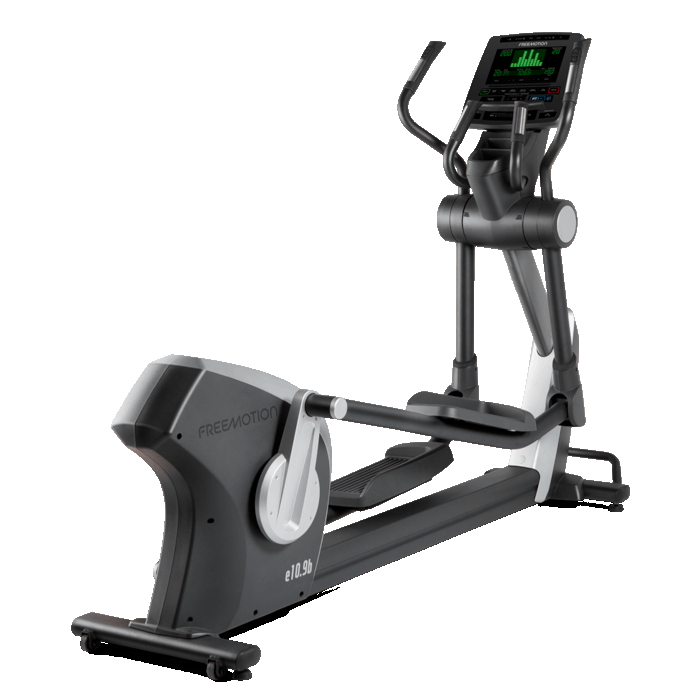 Putting the wheel in the back of a rear-drive elliptical allows the user to move with a pulling motion, using the posterior muscles. The user stands in an upright position, potentially easing back strain. The motion feels more like running. Consider a rear-drive elliptical if you like to work on your hamstrings and glutes with a running-style motion. The Freemotion e10.9b Elliptical has a rear-access design that conserves floor space and an optional 15.6-inch HDTV screen.
The Benefits Of Using an Elliptical
An elliptical is an alternative to a treadmill. While treadmills provide an excellent cardio workout, ellipticals offer other features you might want and need in your home gym. They are generally quieter than a treadmill—an advantage for apartment dwellers and those who enjoy a 5 a.m. workout. Most ellipticals come equipped with handles that move back and forth with the pedals, adding upper-body resistance to ramp up the calorie burn.
As an elliptical machine puts less stress on your joints, it is specifically designed to mimic the motions of running and jogging while continually supporting the heels. Thus, you get the benefits of a fast-paced cardio workout, minus the strain on your knees, back, and hips.
Are you now determined to go shopping for an elliptical? If so, here's our 2021 elliptical buyer's guide to help you determine the best elliptical for your own home use.
Ellipticals For Sale: What To Look For
As you shop for an elliptical, there are a few features that may be important to you. Keep an eye out for these points in any model you consider:
Adjustability Options
Being able to fit the machine to your height and weight is key. After all, you're not likely to use an uncomfortable machine. Look for stride length options, handles that adjust to your height, and multiple resistance and incline settings.
Ease Of Use
Whether adjustments are motorized or manual, they should be easy to make. The screen or shelf for your phone should be at eye level to avoid neck or eye strain.
Smart Features
More and more ellipticals now have smart capabilities to connect you to the cloud. If you want connectivity to interactive training sessions and global and studio class workouts, look for ellipticals that connect online to workout programs like iFIT®.
Maximum User Weight
Choose an elliptical with a weight limit that's above your weight. If you're close to a limit, choose one with a higher capacity.
Metrics
If you want to track your progress, it's essential to check your metrics. Look for features that measure RPM, time, distance traveled and amount of resistance. Some machines also track heart rate and calories burned, which can be helpful if you don't track them on a wearable fitness device.
What To Know Before You Buy A Home Elliptical
Once you've chosen the best home elliptical for you, don't head out the door or hit the "Buy Now" button just yet. Make sure you've checked a few things first.
Home Space
Do you have enough space for the elliptical you've chosen? Check the specs, then measure your space. Keep in mind that you'll need about 20 inches of clearance on two sides of the elliptical. Sometimes the pedals extend past the machine during operation, so allow space for them if needed.
Warranty
Make sure you understand what the elliptical warranty protects and how long it's covered. Consider whether you want to invest in an extended warranty. Something to note: If you choose to store your machine in your garage, that may void your warranty due to uncontrollable conditions of the area. Be sure to review the warranty before purchasing.
Assembly and Delivery
While many elliptical machines are designed to roll or fold away, they can be quite heavy. You may need to consider having yours delivered. Also, check to see if assembly is available. It may be worth it to pay an expert to put your elliptical together.
Returns
Make sure you understand the seller's return policy and ask about any shipping and restocking fees.
The Worth Of An Elliptical
For many people who want the option of a full-body cardio workout in the convenience of their home, it is well worth buying an elliptical machine. You can find high-quality ellipticals in a variety of prices, making it easy to get one that fits your budget. You have the option to work out solo or, thanks to smart technology, with the support of a personal trainer or studio class.
Conclusion
We hope our 2021 elliptical buying guide has given you the information you need to choose the best elliptical for your home. Don't forget to check back here on elliptical.com for our elliptical recommendations, regular elliptical updates and features that are coming out, iFIT support, and all things ellipticals that you should now before you buy.
DISCLAIMER: This article is not intended to replace the advice of a medical professional. The above information should not be used to diagnose, treat, or prevent any disease or medical condition. Please consult your doctor before making any changes to your diet, sleep methods, daily activity, or fitness routine. Elliptical.com assumes no responsibility for any personal injury or damage sustained by any recommendations, opinions, or advice given in this article. Always follow the safety precautions included in the owner's manual of your fitness equipment.
IFIT DISCLAIMER: iFIT requires an internet connection and Wi-Fi to function. You will be required to provide your credit card information upon sign-up for iFIT. Your Commitment Period may be month-to-month or twelve (12), eighteen (18), or thirty-six (36) months, depending on your agreement. Terms shall apply to your iFIT use and subscription during your Commitment Period and any subsequent Renewal Term. Unless you cancel your account or notify us at least twenty four (24) hours prior to the expiration of your commitment period that you do not wish to renew your subscription, your iFIT subscription will automatically renew for an additional month, one (1) year, or two (2) year period, as applicable, for the same duration as your initial commitment period ("The Renewal Term"), and you authorize us to bill the then-applicable membership fee and any taxes to the payment method we have on record for you.
Sources:
https://www.mayoclinic.org/healthy-lifestyle/fitness/expert-answers/elliptical-machines/faq-20058294
https://en.wikipedia.org/wiki/Elliptical_trainer
https://www.nordictrack.com/freestride-trainers/nordictrack-fs10i-freestride-trainer
https://www.proform.com/ellipticals/carbon-el
https://freemotionfitness.com/cardio-machine/e10-9b-elliptical/
https://www.nordictrack.com/learn/5-reasons-for-owning-a-home-gym/
https://www.healthline.com/health/fitness-exercise/calories-burned-on-elliptical#1
https://livehealthy.chron.com/elliptical-forward-vs-reverse-muscles-7558.html
https://www.ifit.com/ellipticals