Best Elliptical Machine For Seniors
As the benefits of regular exercise are highly documented and marketed these days, it's becoming increasingly common that today's seniors are focused on enjoying an active retirement by adopting a healthy lifestyle and losing excess weight. This leads to a renewed dedication to eating a healthy diet and embracing working out at home as a way of life. So, it is important for them to choose forms of exercise that are safe for seniors to do and still get the desired result.
Best Exercise For Seniors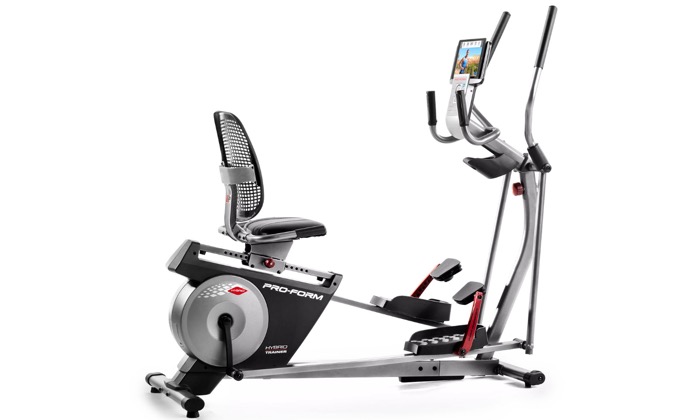 The exercise equipment choice that is highly favored by health professionals for this age group is an elliptical machine. A recent study concluded that an elliptical "…significantly reduces weight-bearing as compared to other common functional and sporting activities." It further states that elliptical exercise "…prevents overuse injury" and is an "…exercise recommendation for those at greater risk for exacerbating chronic joint pathology."
Additionally, exercising on an elliptical machine provides many benefits, including:
Getting both an upper and lower body workout
Boosting stamina and cardio capacity
Putting less stress on your joints
Burning body fat
Improving balance
Burning a lot of calories
It's no wonder that an elliptical machine is the perfect choice for any senior wanting to invest in home exercise equipment that checks all of the boxes.
Best Elliptical Machine For Seniors
Knowing that elliptical exercise can be beneficial for seniors, it's important to find a machine that'll complement and challenge a user without adding in the fear of getting injured in the process.
ProForm Hybrid Trainer XT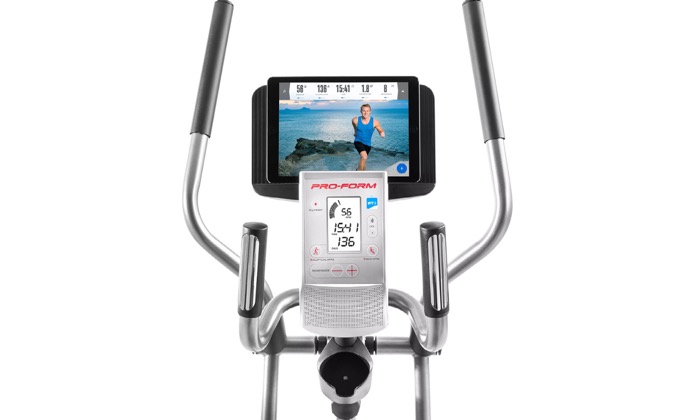 Introducing the best elliptical machine for seniors, the ProForm Hybrid Trainer XT. The creation of this elliptical was built around comfort and stability while providing a workout experience to be challenging, yet smooth enough, for seniors.
The handlebars on the Hybrid Trainer XT allows a user the freedom to focus their strength on their lower body, upper body, or both simultaneously; providing safe movement that embodies a well-rounded, full-body workout.
One of the best features of the Hybrid Trainer XT is its ability to morph from an elliptical machine into an exercise bike. Since it's a 2-in-1 machine, seniors have the opportunity of choosing when and how they work out. Whether they're too tired of standing up but still feel the need to exercise, or they feel like stepping up to the challenge and intensifying their exercise with some interval sets, the range of workouts that the Hybrid Trainer XT allows is like having multiple machines at home without sacrificing your space or budget. And no matter their preferred workout option, there's safe grips located in different areas of the machine while using it as an elliptical and as a bike; including comfort support––such as the adjustable, cushioned seat and oversized cushioned pedals––to make every workout enjoyable.
The cherry on top of the incredible engineering and safety features that this elliptical machine provides happens to be the iFIT® interactive training platform. A senior basically gets a personal trainer programmed right into their membership. By accessing the iFIT app on a phone or tablet, a personalized workout plan and iFIT trainer shows up day in and day out to help motivate and break a sweat with each user each and every day.
As the ProForm Hybrid Trainer XT comes enabled with iFIT, users can purchase a 1-year iFIT Family Membership which allows four other secondary members to be added to one membership. So, make some friendly competition and get your family and friends involved! 
Conclusion
Age shouldn't be the determining factor whether one should work out or not, though the way we work out may need some adjusting as we all get older. A senior can achieve the goal of living a healthier lifestyle by adding an elliptical machine to his or her regular fitness routine. As the benefits of improving balance and strengthening muscles can be the main motivators, the joy and fun iFIT can bring to one's daily ritual can be just the ticket to making it a regular and enjoyable activity for any user to look forward to.
DISCLAIMER: This article is not intended to replace the advice of a medical professional. The above information should not be used to diagnose, treat, or prevent any disease or medical condition. Please consult your doctor before making any changes to your diet, sleep methods, daily activity, or fitness routine. Elliptical.com assumes no responsibility for any personal injury or damage sustained by any recommendations, opinions, or advice given in this article. Always follow the safety precautions included in the owner's manual of your fitness equipment.
IFIT DISCLAIMER: iFIT requires an internet connection and Wi-Fi to function. You will be required to provide your credit card information upon sign-up for iFIT. Your Commitment Period may be month-to-month or twelve (12), eighteen (18), or thirty-six (36) months, depending on your agreement. Terms of Service shall apply to your iFIT use and subscription during your Commitment Period and any subsequent Renewal Term. Unless you cancel your account or notify us at least twenty four (24) hours prior to the expiration of your commitment period that you do not wish to renew your subscription, your iFIT subscription will automatically renew for an additional month, one (1) year, or two (2) year period, as applicable, for the same duration as your initial commitment period ("The Renewal Term"), and you authorize us to bill the then-applicable membership fee and any taxes to the payment method we have on record for you.
Sources:
https://pubmed.ncbi.nlm.nih.gov/24095267/
https://www.healthline.com/health/fitness-exercise/elliptical-benefits
https://elliptical.com/category/best-ellipticals/
https://www.proform.com/hybrid-trainers/hybrid-trainer-xt
https://elliptical.com/ifit-elliptical-support-getting-started-with-ifit/