Elliptical Review: ProForm Carbon E7 Elliptical
With a busy schedule, it can be difficult to stay on track with any workout routine. So, having the ability to work out at home can help. Fortunately, the ProForm Carbon E7 Elliptical offers you all of the power of a gym and a personal trainer in one elite package. Let's dig further into the details of this elliptical, and see what makes it a popular home equipment choice.
Carbon E7 Elliptical Features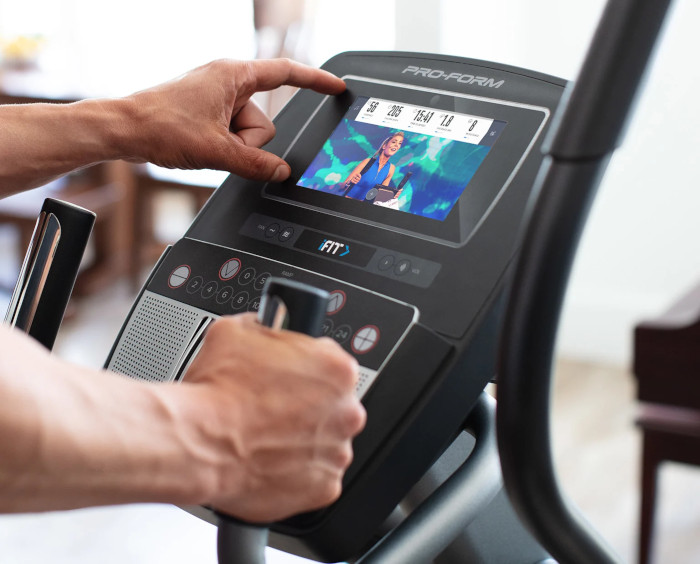 This high-performance ProForm elliptical workout machine has many notable features to give you the best possible workout, no matter your fitness level, while keeping you comfortable on and off of your equipment.
Performance
The Carbon E7 is made for performance with features like:
25 Lb. effective, inertia-enhanced flywheel for a smooth and natural striding performance.
24 digital resistance levels for easy progression.
Patented SMR™ silent magnetic resistance to give you a smoother and quieter workout.
0 – 20º power adjustable incline to intensify workouts, and work out different muscle groups.
Full-length, 19-inch power adjustable stride so you don't compromise fit for function.
High-quality solid steel construction with front drive design.
7-inch Smart HD touchscreen for easy interactive use.
Comfort
ProForm doesn't skimp on comfort either. To make workouts as enjoyable as possible, the Carbon E7 was carefully designed with adjustable and cushioned pedals, a CoolAire™ workout fan with two speed settings, and soft touch upper-body grips. It also includes an audio auxiliary port with dual 2-inch speakers, so you can zone out and listen to your favorite music or audio while you work out uninterrupted.
iFIT® Family Membership
Training at home has never been the same since iFIT hit the scene. This interactive personal training program acts as your personal coach, workout library, travel guide, nutrition coach, and all-around wellness mentor.
With iFIT, the guesswork is taken out of the equation, so you can focus on your chosen elliptical workout that was personally crafted by a professional fitness expert. Not to mention the large variety of studio workouts and global workouts. No matter your preference, iFIT has an unmatched selection of elliptical classes for you to choose from, as well as workouts that focus on improving your mind and overall wellness. 
Here is a glimpse into the extraordinary iFIT workout, Heart To Heart Series, that digs deeper and helps you to work on yourself deeper than just your physical wellbeing:
Budget
One of the greatest benefits of purchasing the ProForm Carbon E7 Elliptical is the ProForm+ program. This ProForm financing program allows you to get your Carbon E7 for free with a purchase of a 3-year iFIT family membership.
Trainer-Led Features
As you focus on your movement and breath, your iFIT trainer will virtually work with your ProForm elliptical and adjust your incline and resistance to make sure you're reaching your full potential during your workout. However, don't think you're stuck with following the workout that was designed for you. You can manually choose your own speed and incline when you feel like you can't keep the trainer's pace, then rejoin the trainer's automatic adjustment setting when you're good and ready to take on the workout.
Warranty
ProForm is confident in all of their equipment. With that said, your elliptical is protected with a 10-year frame warranty, 2-year parts warranty, and a 1-year labor warranty.
Storage
While other machines stop with just performance and comfort features, ProForm understands the need for home storage solutions as well and just how important it can be. To help maximize your space, they've built transport wheels into the Carbon E7, which means you can roll your elliptical into any corner of your home after you work out.
Conclusion
If you're looking for strong, quality, low-impact exercise equipment with workouts that'll leave you wanting more, then the ProForm Carbon E7 Elliptical is the way to go. Because if you want to be the best, you must get the best.
DISCLAIMER: This article is not intended to replace the advice of a medical professional. The above information should not be used to diagnose, treat, or prevent any disease or medical condition. Please consult your doctor before making any changes to your diet, sleep methods, daily activity, or fitness routine. Elliptical.com assumes no responsibility for any personal injury or damage sustained by any recommendations, opinions, or advice given in this article. Always follow the safety precautions included in the owner's manual of your fitness equipment.
IFIT DISCLAIMER: iFIT requires an internet connection and Wi-Fi to function. You will be required to provide your credit card information upon sign-up for iFIT. Your Commitment Period may be month-to-month or twelve (12), eighteen (18), or thirty-six (36) months, depending on your agreement. Terms of Service shall apply to your iFIT use and subscription during your Commitment Period and any subsequent Renewal Term. Unless you cancel your account or notify us at least twenty four (24) hours prior to the expiration of your commitment period that you do not wish to renew your subscription, your iFIT subscription will automatically renew for an additional month, one (1) year, or two (2) year period, as applicable, for the same duration as your initial commitment period ("The Renewal Term"), and you authorize us to bill the then-applicable membership fee and any taxes to the payment method we have on record for you.
Sources:
https://www.proform.com/ellipticals/carbon-e7
https://elliptical.com/elliptical-workout-colorado-mountaineering-series-ifit/
https://www.proform.com/blog/9-tips-burn-maximum-calories-on-elliptical/
https://elliptical.com/ifit-elliptical-support-getting-started-with-ifit/
https://elliptical.com/ways-to-get-a-great-elliptical-workout/
https://www.proform.com/blog/ifit-workout-heart-to-heart-series/
https://www.youtube.com/watch?v=aXLlHtrABeM
https://www.proform.com/blog/free-equipment-with-ifit-purchase/
https://www.youtube.com/watch?v=Khx23PQe214&t=34s
https://www.proform.com/blog/elliptical-best-low-impact-exercise-machine/