Top Budget Ellipticals For Your Home
Having a "home gym" tends to conjure up images of wealthy people with large houses and an extensive amount of fancy machines that do different things. That's not quite the case. Anyone can consider a small space in their home their own personal "home gym". And in the long run, a home gym is often the most budget-friendly option, especially when you consider the cost of gym memberships, personal training sessions, childcare, fuel, and parking expenses, not including time spent driving to and from the gym. Of course, building a solid home gym can require an investment up-front, so cost can be a concern for those who are in the market for home workout equipment. An elliptical trainer, in particular, is an extremely wise investment for a budget-conscious consumer who prefers low-impact workout sessions and still have access to quality features.
Ellipticals: Your Best Bet For A Home Gym On A Budget
If your home gym budget only allows you to buy one piece of workout equipment, an elliptical trainer should be heavily considered. For starters, ellipticals offer a full-body workout in a single machine. The foot pedals and moving handlebars allow a user to work both their arms and legs. Also, doing a workout on an elliptical is relatively low-impact as the fluid, circular motions are controlled and smooth. With added cushioning to the foot pedals, a workout session can be comfortable and enjoyable.
Though it's considered a joint-friendly, low-impact machine, an elliptical can be challenging enough to burn major calories. By increasing the intensity of your workout, you force yourself to work out harder which can, in turn, help you maximize fat burning.
Best Affordable Elliptical Machines
From both a workout and a financial standpoint, an elliptical trainer is an ideal addition to your home gym. If you think these trainers are too expensive for your finances, think again! You don't need to spend a fortune or sacrifice features. Read on for our top picks for the best affordable elliptical machines for your home gym.
NordicTrack Commercial 9.9 Elliptical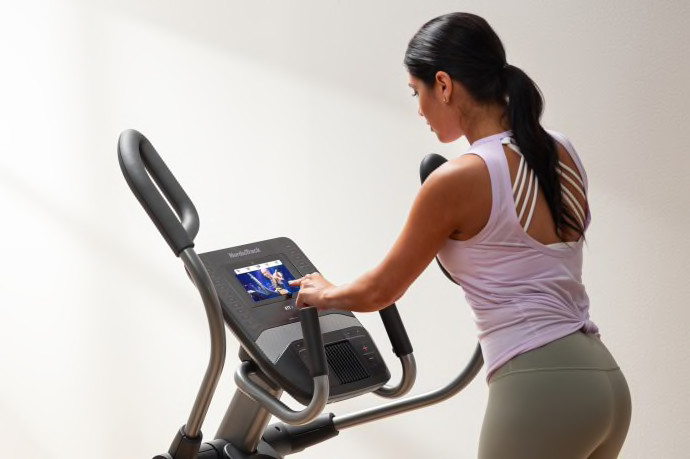 This front-drive elliptical is surprisingly affordable and comes equipped with loads of features that are ordinarily impossible to find at this price point.
Commercial 9.9 Performance Features
When it comes to performance, the NordicTrack Commercial 9.9 Elliptical does not disappoint. It features a 0% up to 20% fully adjustable incline range and 22 levels of digital resistance, allowing you to create a workout that's as tough or forgiving as you want. Solid steel construction, SMR™ Silent Magnetic Resistance, and a 25 lb. inertia-enhanced front-drive flywheel allow more of a smooth, quiet performance. And to make your machine do the work for you further, the One Touch® Controls gives you access to adjust your incline and resistance quickly with a single touch of a button.
Comfort and Convenience Features
The Commercial 9.9 delivers exceptional attention to user comfort and convenience. This trainer features an auto-adjustable stride length, allowing you to target specific muscle groups. The 9.9 is also equipped with an Autobreeze™ responsive workout fan to keep you cool and oversized, cushioned foot pedals for an enjoyable workout.
Technology Features
One of the Commercial 9.9's most sought-after tech features is its iFIT® integration. The iFIT experience is unlike any other virtual training program out there. It includes:
Access to a massive library of coach-led workouts, featuring world-class athletes and elite coaches and trainers from around the globe.
LIVE interactive training: Your elliptical's incline and resistance automatically adjust according to your trainer's command, pushing you toward your best workout ever.
Progressive stat tracking for multiple users, so every member of the family can track and build upon their personal bests.
A truly immersive, unmatched workout experience: iFIT utilizes Google Maps™ technology to allow you to train virtually anywhere in the world. The machine's settings automatically adjust to match the terrain, while the Commercial 9.9's stunning, 7-inch Smart HD Touchscreen, dual 2-inch digitally amplified speakers, and Bluetooth® audio connectivity allow you to lose yourself in the workout.
The Commercial 9.9 also comes with an extremely impressive perk for a budget-friendly elliptical trainer: a 1-year iFIT membership included with your elliptical purchase.
ProForm Hybrid Trainer XT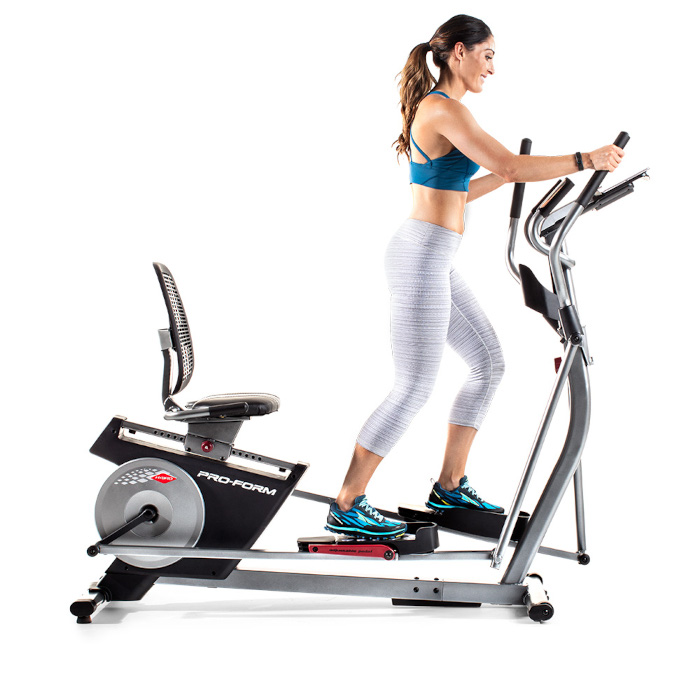 The ProForm Hybrid Trainer XT is an excellent way to truly maximize your purchasing power, even with limited funds. This machine is not only among our picks for the best affordable elliptical machines, but it also doubles as a recumbent bike, meaning you effectively get two pieces of quality workout equipment for one affordable price.
Hybrid Trainer XT Performance Features
The Hybrid Trainer XT's defining feature is its two-in-one design. This elliptical machine utilizes a powerful, 13 lb. effective inertia-enhanced flywheel to power both a rear-drive elliptical trainer and a recumbent bike––allowing you to target a vast range of different muscle groups for a true full-body workout. Just adjust the console and pedal positions to switch from one equipment type to the other.
The Hybrid Trainer XT also features 16 digital resistance levels to allow you to customize your workout intensity and uses SMR™ Silent Magnetic Resistance technology to minimize friction and noise.
Comfort and Convenience Features
The Hybrid Trainer XT is designed to deliver a comfortable and convenient workout. This elliptical features a horizontal 15-inch stride length for long, smooth strides and minimal missteps. An adjustable seat provides cushioning and lumbar support that can fit almost any user, as well as cushioned, oversized, and adjustable foot pedals to ensure a smooth and comfortable workout session.
Technology Features
Like the NordicTrack Commercial 9.9 Elliptical, the Hybrid Trainer XT is iFIT-enabled––allowing you to take advantage of all the amazing coach-led and interactive studio and destination workouts the platform has to offer.
Thanks to the two-in-one design, the Hybrid Trainer XT offers users the chance to utilize both elliptical and bike workouts on iFIT, basically doubling the workouts that are available to you. The Hybrid Trainer XT includes a 1-year iFIT family membership with your elliptical purchase, so you can test-drive all that iFIT has to offer without having to dedicate to the program long-term.
In addition to iFIT, this elliptical also features 16 professional training, on-board workouts, dual 2-inch speakers for amplified sound, an audio auxiliary port, and a large LCD display to keep track of your workout stats.
Top Features To Look for Before Purchasing An Elliptical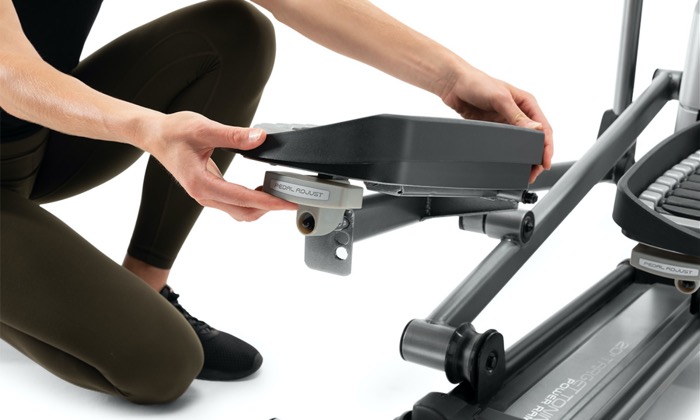 While these are our top picks for the best affordable elliptical machines, there are other ellipticals available at just about every price point. Keep in mind, however, that equipment isn't a good deal—at any price—if it doesn't work well for you. Some key features to consider before purchasing an elliptical machine include:
User weight capacity
Stability
Movement and noise level
Range of motion
Pre-programmed training and workout features
Conclusion
If you're ready to expand your home gym without shrinking your wallet, a budget-friendly elliptical machine is a smart choice. Get the best elliptical for your money and try the NordicTrack Commercial 9.9 Elliptical or ProForm Hybrid Trainer XT.
Once you've made your initial elliptical investment, start by taking full advantage of your new elliptical by learning how you can burn belly fat with elliptical training and give yourself something to work towards.
DISCLAIMER: This article is not intended to replace the advice of a medical professional. The above information should not be used to diagnose, treat, or prevent any disease or medical condition. Please consult your doctor before making any changes to your diet, sleep methods, daily activity, or fitness routine. Elliptical.com assumes no responsibility for any personal injury or damage sustained by any recommendations, opinions, or advice given in this article. Always follow the safety precautions included in the owner's manual of your fitness equipment.
IFIT DISCLAIMER: iFIT requires an internet connection and Wi-Fi to function. You will be required to provide your credit card information upon sign-up for iFIT. Your Commitment Period may be month-to-month or twelve (12), eighteen (18), or thirty-six (36) months, depending on your agreement. Terms of Service shall apply to your iFIT use and subscription during your Commitment Period and any subsequent Renewal Term. Unless you cancel your account or notify us at least twenty four (24) hours prior to the expiration of your commitment period that you do not wish to renew your subscription, your iFIT subscription will automatically renew for an additional month, one (1) year, or two (2) year period, as applicable, for the same duration as your initial commitment period ("The Renewal Term"), and you authorize us to bill the then-applicable membership fee and any taxes to the payment method we have on record for you.
Sources:
https://www.nordictrack.com/learn/elliptical-machine-a-must-have-for-any-home-gym/
https://www.mayoclinic.org/healthy-lifestyle/fitness/expert-answers/elliptical-machines/faq-20058294
https://www.healthline.com/health/fitness-exercise/elliptical-benefits#benefits
https://www.healthline.com/health/osteoarthritis/knee-pain/treadmill-vs-elliptical
https://www.nordictrack.com/fitness-equipment-financing
https://www.nordictrack.com/ellipticals/commercial-9-9
https://elliptical.com/ifit-elliptical-support-getting-started-with-ifit/
https://www.nordictrack.com/learn/ifit-membership-frequently-asked-questions/
https://www.proform.com/hybrid-trainers/hybrid-trainer-xt
https://www.proform.com/fitness-equipment-financing
https://www.proform.com/blog/elliptical-best-low-impact-exercise-machine/
https://elliptical.com/elliptical-workout-colorado-mountaineering-series-ifit/
https://www.nordictrack.com/learn/bilt-app-for-nordictrack-assembly/
https://elliptical.com/burn-belly-fat-with-elliptical-training/