Best Ellipticals Compared: Freemotion vs. NordicTrack
Your home gym deserves the best equipment—and so do you. But with all those choices on the market, you may feel a bit overwhelmed trying to tackle this decision by yourself. Which brand outpaces the others? What about the different models? How much time should you spend researching specs and features?
Don't let the home gym building process turn into its own kind of exercise. Instead, save your energy for the real workouts and let Elliptical.com do the research for you. That's what our Best Ellipticals Compared series is all about!
Today, we'll be comparing models from Freemotion and NordicTrack to see which elliptical comes out on top. Get ready for a clash of titans!
Freemotion e8.9b Total Body Elliptical
First, we're taking a look at the Freemotion e8.9b Total Body Elliptical. From the very first glance, you can tell this machine is ready and able to give you an engaging workout. Large and eye-catching, this elliptical could make an impressive addition to any home gym—but does it deserve that spot? Read on to find out.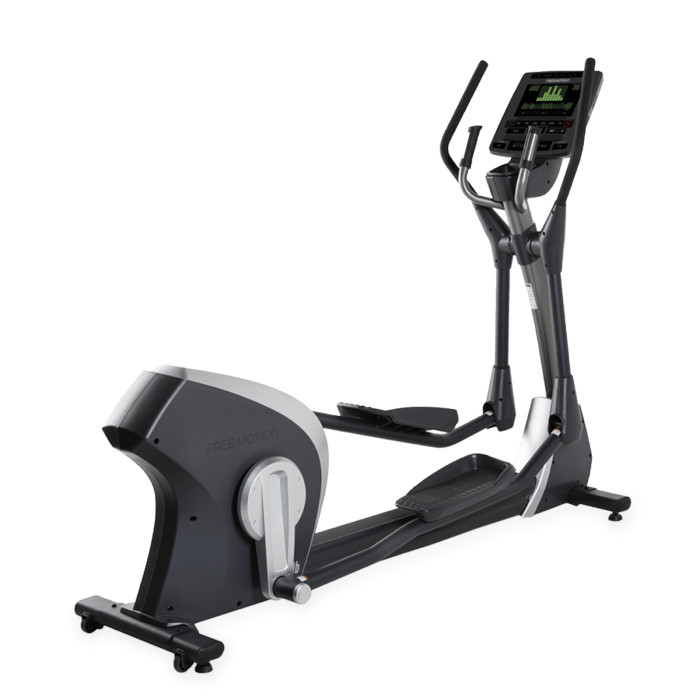 Details And Specs
Sure, the e8.9b has an impressive appearance, but we all know not to judge a book by its cover. Let's take a closer look at what makes this elliptical really tick!
Technology
Google Maps™ compatibility with iFIT®
15.6" personal screen with on-console controls
Electronic readouts including pace, speed, resistance, and RPM
Functionality
24 digital resistance levels
400 Lb. user weight capacity
Preset workouts and fitness tests
Comfort
Soft-touch upper body grips
Water bottle holder
Traction control cushioned pedals
iFIT
To top it all off, the e8.9b is also iFIT enabled, which means you can start personalizing your workout the minute you step on the machine. With on-demand access to an ever-growing library of sessions—led by world-class trainers, no less—you'll be able to engage with your routines at your own pace. iFIT also learns from you, tracking your progress and training habits to help recommend workouts that will challenge and delight.
iFIT memberships start at $15/mo. + tax, and auto-renew unless canceled in advance. Cancel at any time. Credit Card required for activation. Internet and WiFi required.
NordicTrack SpaceSaver SE9i
Next, the NordicTrack SpaceSaver SE9i takes its place in the ring. This elliptical really lives up to its name: With the Vertical SpaceSaver™ Design, you can fold the machine after every workout, allowing you to more conveniently store and maneuver the equipment. That's right—you and your home gym could benefit from the SpaceSaver—freeing up space after every workout.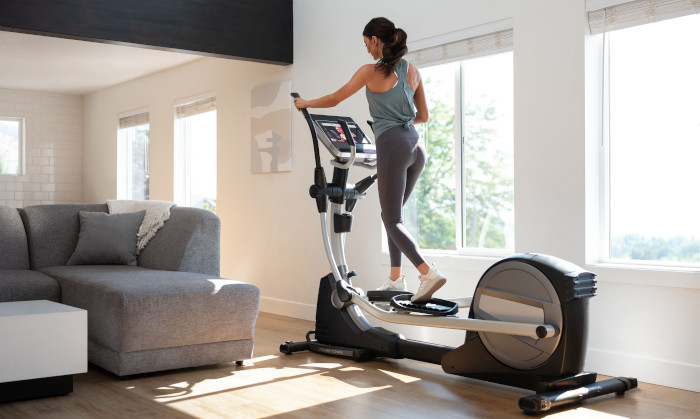 Details And Specs
This elliptical doesn't just fold up and look pretty. Let's find out what else the SpaceSaver SE9i can do.
Technology
14" Smart HD Touchscreen
Google Maps™ compatibility with iFIT
Two 2" digitally amplified speakers
Bluetooth® audio capabilities
Functionality
24 digital resistance levels
0% – 10% incline
325 Lb. user weight capacity
Comfort
AutoBreeze™ workout fan
SoftTouch™ upper-body grips
Adjustable oversized cushioned pedals
18″ auto-adjustable stride
Water bottle holder
iFIT®
The SpaceSaver SE9i comes with a free 30-day iFIT Family Membership with your purchase to help you take your workouts to the next level. Join iFIT trainers in exotic locations, in their homes, or in a live studio session for all the motivation and fun you've been craving. Plus, for all the multitaskers out there, you can learn while you exercise—for example, with the Colorado Mountaineering Series, where trainer Aron Ralston guides you on an unforgettable hike while sharing lessons on navigating life's uncertainties.
iFIT has so much to offer:
Which Elliptical Wins
The competitors are all lined up. It's time to see who comes out on top!
Similarities
Before putting these ellipticals head to head, let's take a moment to review the qualities they have in common. Most notable is their iFIT compatibility, which means you'll have access to an on-demand library of workout sessions no matter which machine you choose.
Both the Freemotion e8.9b and NordicTrack SpaceSaver SE9i also have Google Maps™ compatibility, 24 digital resistance levels, and a water bottle holder to help make hydration a breeze.
An iFIT membership is required to use Google Maps™ on NordicTrack machines.
Differences
While it's nice to know the similarities, our competition really comes down to the differences. Let's compare:
User Capacity: The Freemotion e8.9b has a 400 Lb. user capacity, while the NordicTrack SpaceSaver supports 325 Lbs.
Screen Size: Measuring at almost 16", the e8.96 has a large screen and a 14" screen is offered by the NordicTrack SpaceSaver.
Audio: If you want to jam to your workout playlist, the NordicTrack SpaceSaver SE9i has you covered with two speakers and Bluetooth capabilities.
Workout Fan: The NordicTrack SpaceSaver SE9i comes with a built-in fan to keep you comfortable while you exercise.
Incline: Hoping to make every elliptical workout feel like a real hike? The NordicTrack SpaceSaver offers an impressive incline feature.
And The Winner Is….
It was a tough competition, but in the end, the NordicTrack SpaceSaver SE9i comes out on top. It's free iFIT trial helps you get started with confidence, while its space-saving design offers flexibility that most home gym owners will find invaluable. The SpaceSaver's advanced functionality—including that 10% incline—and user-friendly features like Smart HD touchscreen and workout fan make it our favorite elliptical of the two.
Conclusion
We know it's no easy feat to outfit your home gym. Today's winner, the NordicTrack SpaceSaver SE9i, might just be the answer you're looking for—and now you have proof that it beats out competitors in some pretty significant ways.
If you want more brand comparisons and head-to-head competitions, check back on our blog. We're always here with elliptical reviews, specs, and stats to help your home gym feel like your ideal oasis!
DISCLAIMER: iFIT memberships start at $15/mo. + tax, and auto-renew unless canceled in advance. Cancel at any time. Credit Card required for activation. Internet and WiFi required. DISCLAIMER: This article is not intended to replace the advice of a medical professional. The above information should not be used to diagnose, treat, or prevent any disease or medical condition. Please consult your doctor before making any changes to your diet, sleep methods, daily activity, or fitness routine. Elliptical.com assumes no responsibility for any personal injury or damage sustained by any recommendations, opinions, or advice given in this article. Always follow the safety precautions included in the owner's manual of your fitness equipment.
Sources:
https://freemotionfitness.com/machine-for-home-gym/e8-9b-elliptical/
https://www.nordictrack.com/nordictrack-spacesaver-se9i-elliptical
https://elliptical.com/elliptical-workout-colorado-mountaineering-series-ifit/
https://www.youtube.com/watch?v=aaeWXa6x6zw&t=44s
https://elliptical.com/ifit-elliptical-support-getting-started-with-ifit/
https://elliptical.com/category/best-ellipticals/